Amazing Low Prices!!
We offer both daily hotel room for rental, and studio apartment for monthly usage suitable for those who are going to University or working in Bandung for temporarily. Check our budget accommodation service hotel with amazing low prices.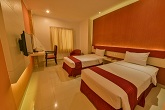 a comfortable solution
Efficient room type for most business people that keep moving, or for those who want to enjoy their stay at our express hotel. Regardless your needs, our deluxe room can easily meet your needs!!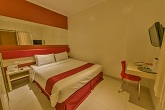 an express setup
Petite room for those looking for a budget accommodation solution without sacrificing perfect cleanliness and hygiene. Students or budget travellers, this is your best solution !!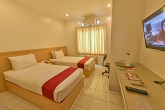 a better night sleep
Moderately quite room that provide comfort and relieve night rest for the weary travel without sacrificing your wallet. Deluxe rooms has the only balcony space compared to the rest of the room types.